Since its inception 182 years ago, Cass County has enjoyed a reputation of excellence in care and the Cass County Medical Care Facility is the facility of choice in Southwestern Michigan.
Our facility is spacious and modernized, situated on approximately 200 acres of trees, rolling lawns and cropland, also sharing the space with wild turkeys and deer. Two ponds with a fishing deck, a patio and pavilion for special events make the grounds relaxing and homelike.
Come out to CCMCF and experience our loving and caring family.
We have Physical, Occupational and Speech Language Pathology Therapists available seven days a week, including home visits in preparation for discharge. We also offer Outpatient Therapy Services, with exceptional customer service and Resident Centered Treatment plans for each individual customer/resident. Residents may benefit from attending physical, occupational, or speech therapy to improve their quality of life.
Where Compassionate Care and Community Meet
For the convenience of our residents, their families, and referral sources, we have resident admissions 24 hours a day, 7 days a week. The admission process is quickly and easily accomplished.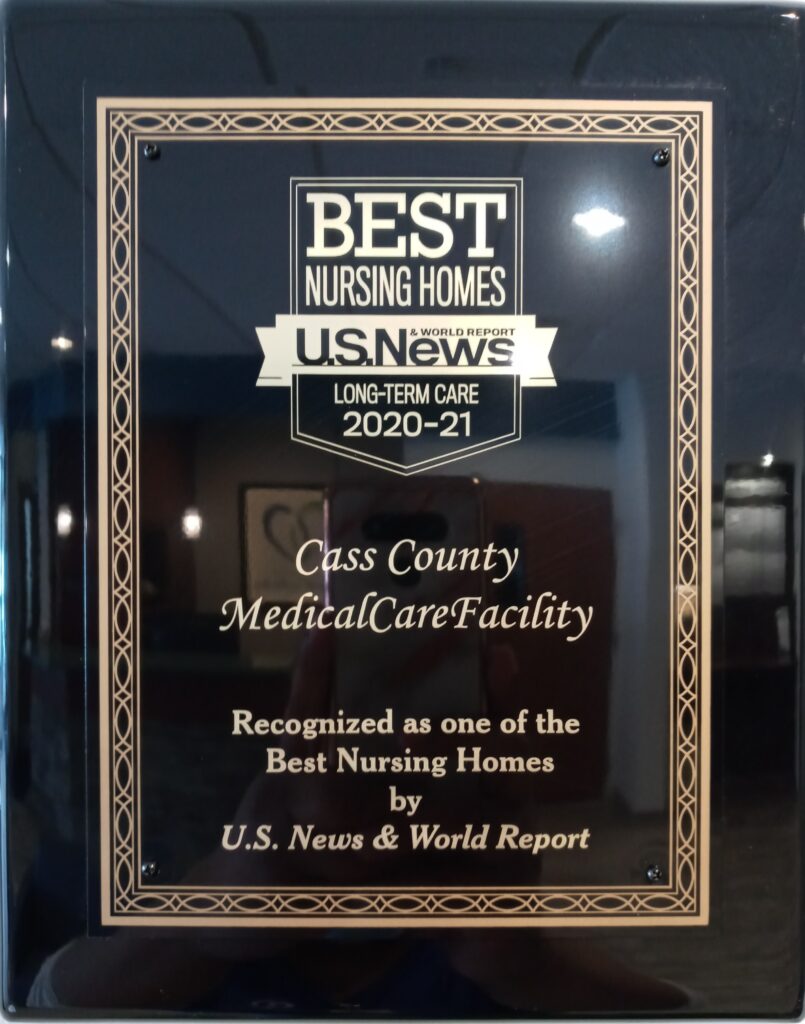 CCMCF is a 5-Star Facility​
CCMCF is proud to be 5-star rated for 2017, 2018, 2019, 2020, 2021 and 2022 by U.S. News & World Report. Teamwork, love, and support from families and the community does make a 5-star facility. Thank you all for making CCMCF the best of the best.
The Cass County Medical Care Facility will provide to our community of care  the highest possible quality of life through compassionate care, exceptional skilled nursing and rehabilitation services regardless of ability to pay.
As a not-for-profit government health care facility, we view our mission differently than a private nursing facility.
Our mission is quite simple. Our "profits" are invested in our residents' care — day by day, week by week, month by month. As a result, our staffing levels of nurses, aides and support staff are higher than most nursing homes in the country. This allows us to provide more personalized time with each resident.