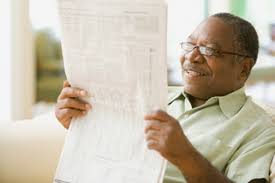 Cass County Medical Care Facility welcomes new administrator
January 24, 2022
CASSOPOLIS — With the help of a recent staffing change, one area organization is looking to expand and improve long-term care in Cass County.
Last month, Roger Garmendia, 38, was named the new administrator at the Cass County Medical Care Facility, a government-run nursing facility located at 23770 Hospital St., Cassopolis. The former administrator, Christian Lutes, has been named the chief executive officer at the facility. According to Lutes, the staffing change will allow Garmendia to oversee the day-to-day operations at the facility, while Lutes turns his focus to other projects, including a potential expansion on the facility's 200-acre property.
"I will be moving forward to work with the facility and the county of Cass to provide homes for our increasingly growing population of elders," Lutes said, adding that he fully trusts Garmendia to do well in the administrator position. "Roger has heart. Many people will tell you they have heart — Roger actually has heart. He has a solid background in long-term care from a for-profit perspective and in a different state, but he has the aptitude to continue, to move forward and make Cass County the facility of choice and the provider of choice down the road when we start expanding."
Though Garmendia said he and his wife are currently looking for a new home in the Cassopolis area, he currently lives in the South Bend-Mishawaka region. He was born and raised in Honduras before moving to Berrien Springs when he was 19 years old.
Gardmendia comes to the medical care facility with 15 years of long-term care experience, having worked as a certified nursing assistant, activities director and nursing home administrator.
In the weeks since he started in his new position, Garmendia said he is enjoying his work and the culture at the medical care facility.
"I woke up in the morning thinking about work, and it wasn't anything bad," Garmendia said. "I was thinking about the future and plans to move forward. … I feel happy, fulfilled and hopeful about the service that we are not only providing now, but will be providing."
He said he is excited to put those plans into action and hopes to serve the facility well into the future.
"My hope is to continue serving and to provide the level of care the Cass County Medical Care Facility has been providing up to this point and doing it in a way that integrates people, integrates the county, that not only brings awareness, but brings us together," Garmendia said. "To be successful, we want to have that connection with the community."
Lutes agreed that the future is bright for the Cass County Medical Care Facility and said he is excited to work with Garmendia as the facility works toward its goal of expansion.
"We want to provide the services that are not available and to keep those services in the county so people can remain in the county and close to loved ones," Lutes said. "Roger is going to be there with us every step of the way."
CCMCF NOW OFFERING OUTPATIENT THERAPY SERVICES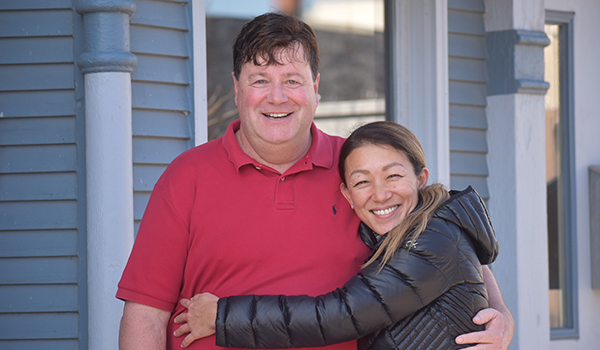 CASSOPOLIS — One local medical facility is preparing for a big first.
For the first time, the Cass County Medical Care Facility will soon begin offering outpatient therapy services, which serve as a course of treatment for an injury or illness through a series of clinic visits rather than a long-term stay in a medical facility. According to facility administration, the move is years in the making.
"This is exciting," said Rie Shimada, director of therapy services. "We are very excited to offer this service."
"This the first of many firsts for our facility," added Administrator Christian Lutes. "It's a time of change."
As a government-operated nursing facility, the staff at Cass County Medical Care Facility are used to caring for the elderly and disabled inside its living facility. By offering outpatient services, Shimada said the facility is opening itself up to the entire community and people of all ages.
"People look at us as just serving older people," she said. "Outpatient therapy is not just for seniors. We are open for high school students, athletes, police departments, fire departments. People get hurt. They don't need to go out of county to get outpatient therapy. We can treat them here."
When the center opens its outpatient program, it will take its first 10 patients free of charge, which will allow the facility to invite a state surveyor to come and evaluate its services. When the program is fully functioning, Cass Medical Care Facility staff expect to treat at least 16 patients per day.
Lutes said the facility will begin offering outpatient therapy services in the coming weeks and has already hired a team of staff to run the program smoothly and effectively.
"We have a tremendous team that will surpass our wildest expectations," he said. "We are looking to be a regionally recognized therapy entity."
 Lutes and Shimada said Cass County Medical Care facility offering outpatient therapy services will not only benefit its patients but will also benefit the community as a whole.
"My vision is that we serve all [people] right at the facility," Shimada said.
"It's giving a viable option with caliber staff right in the county, so [residents] don't have to drive far to get outpatient services," Lutes added. "It supports the county, so it's a winning situation all around."
For more information, contact the Cass County Medical Care Facility at (269) 445-3801.
LADD donates to Cass County Medical Care Facility
June 16, 2021
LADD donates to Cass County Medical Care Facility
CASSOPOLIS — A local nonprofit supported a fellow Cass County organization this week.
Tuesday afternoon, Living Alternatives for the Developmentally Disabled, also known as LADD Inc., donated $250 to Cass County Medical Care Facility, 23770 Hospital St., Cassopolis.
"We wanted to help those in need," said Sue Ann Stewart, office manager at LADD. "It's a nice community activity."
Cass County Medical Care Facility is a government-run nursing home that participates in the Medicare and Medicaid programs and provides resident counseling services. LADD is a nonprofit providing several services to those living with disabilities.
"This is a blessing," said Cass County Medical Care Facility Administrator Christian Lutes. "To be recognized by [LADD] makes me feel incredible."
Lutes said the funds donated by LADD would be used to support programming in the facility's activities department.
"Throughout the pandemic, we have focused our resources on more employees, and our activities department has hired 14 more employees over the course of the pandemic," he said. "These are the folks that reach out and sit with folks, eat with folks, spend time with folks. This donation will help us stretch that a little further."
Both Stewart and Lutes said Cass County Medical Care Facility and LADD work together often, as the two organizations share patients.
"We work constantly with LADD," Lutes said. "We share patients. We share knowledge. We share ideals."
Both said they see the value in community organizations supporting each other.
"We want to work together and support each other as a team," Stewart said.
"We have the same mission in that we are all civil servants," Lutes added. "We take that seriously. We all work together because that's what it takes. It's a great feeling to support each other, and it's another way that our small county works."
CCMCF START SPRING WITH A PARADE
May 17, 2021
CCMCF IN THE NEWS (BRIDGE MICHIGAN) HUGGING STATION
Hugging stations: How some Michigan nursing homes fight despair amid COVID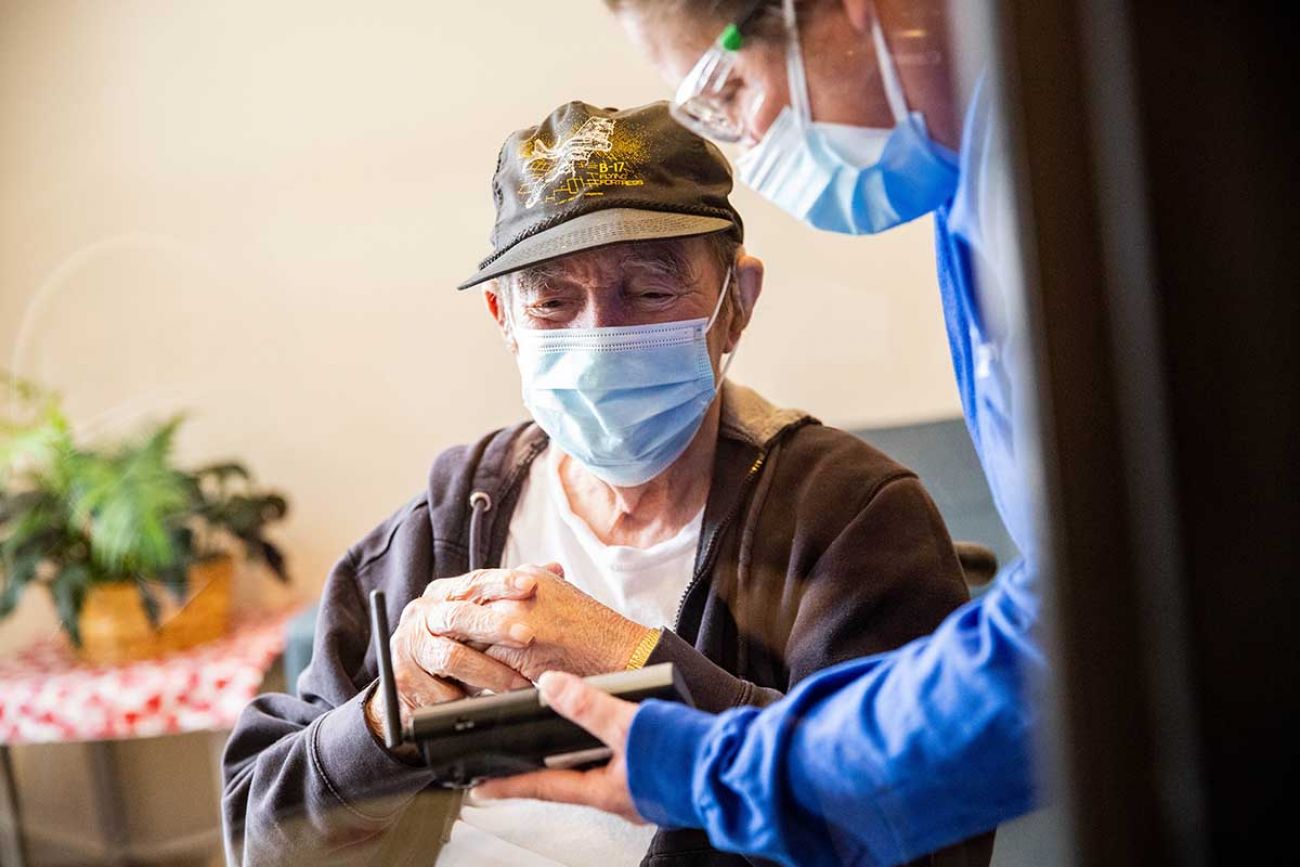 Liberty Wilson, hospitality aide, holds an intercom up to Clarence "Bo" Whitmyer, so he can speak to his daughters on the other side of the glass visiting him in the vestibule at Cass County Medical Care Facility in Cassopolis. (Bridge photo by Daytona Niles)
Inside the heated vestibule at Cass County Medical Care Facility, it will not matter that, for the next 14-and-one-half minutes, the sisters' conversation with their father will be the same as countless others they've had with him in the past.
That dementia has left him with few words.
That Phyllis's quip — "Did you go dancing last night, Dad?" — is as well worn as the faded ball cap that signifies 96-year-old Clarence "Bo" Whitmyer's time as a B-17 tail gunner in World War II.
What will matter is that Whitmyer's eyes are pinched at the corners, evidence of the smile behind his mask. 
After months of awkward window visits — sometimes with snow blowing around family members as they stood outside and shouted through the wind — he appears content.  And that's a relief, Schmuhl said, smiling as she turns toward the exit after their visit. "That was good," she said, taking a deep breath as an aide wheeled their father back down the hallway. "He looks good."
Residents in many Michigan facilities are not so lucky. Across wide swaths of the state, nursing homes and other long-term care facilities are now eligible under state law to resume indoor visitations with loved ones. But few appear to be making that happen. "We hear about homes — where residents are near end-of-life, where visitation is clearly allowed — and aren't allowing" visitation, said Salli Pung, head of the Michigan Long-Term Care Ombudsman program, which advocates for residents in nursing homes and similar facilities.
As of Friday, COVID cases counts and other health metrics had improved enough in 40 of Michigan's 83 counties, as well as the city of Detroit, to support visits from loved ones, according to the MiSafeStart dashboard. Equally promising, every resident of Michigan's skilled nursing facilities that wanted a COVID vaccine has had at least one dose; and more than three-quarters have taken their second dose of the two-dose regimen, as of Monday, according to the state's vaccine dashboard. And yet? "I'm not hearing of a lot of facilities opening up, no," Pung said. "I feel like we're in the mud and we're not moving forward."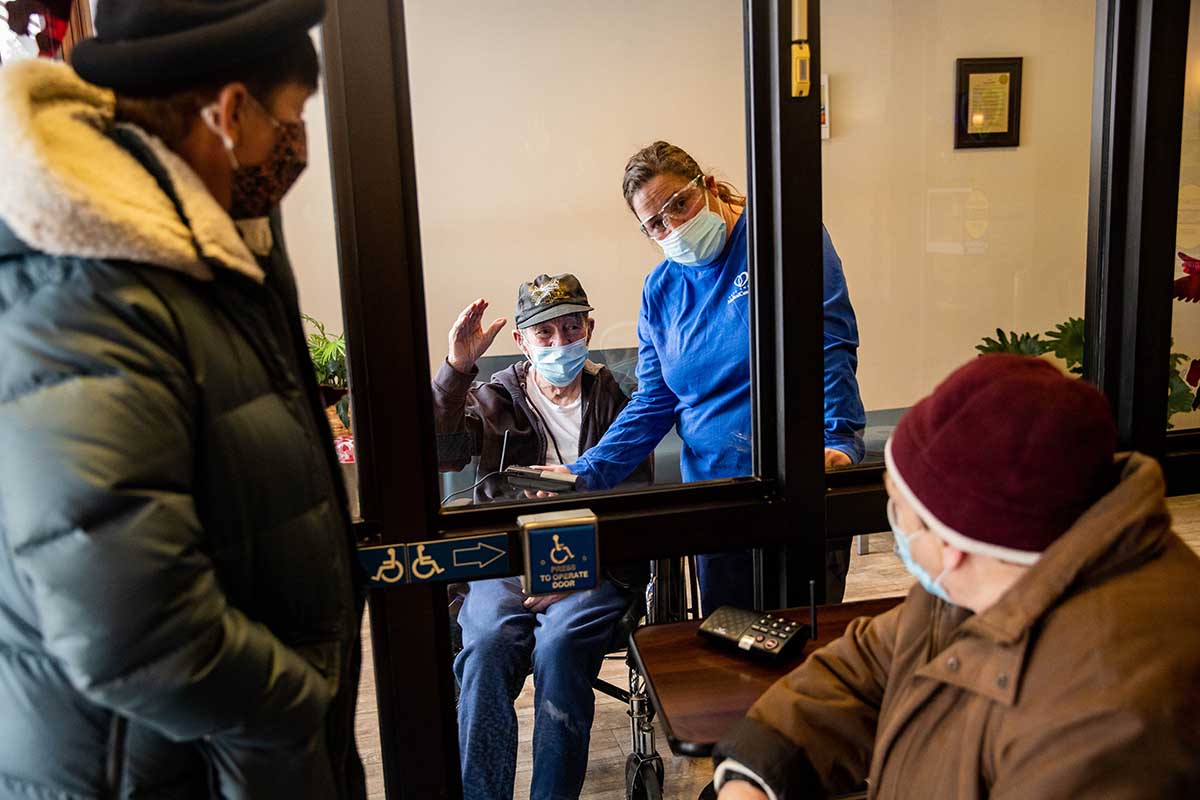 Clarence "Bo" Whitmyer waves goodbye to his daughters during a visit at Cass County Medical Care Facility in Cassopolis. (Bridge photo by Daytona Niles)
She and others acknowledge that nursing homes must balance the months of isolation residents have endured against the threat of spreading the virus in a state where more than one-third of 15,000 deaths linked to COVID are connected to long-term care facilities.
The Health Care Association of Michigan, which represents some 350 long-term care facilities, said it doesn't track how many of its homes have opened to visitation. Each "facility has to have multiple procedures in place to maintain safety as well as the resources to support those procedures," HCAM's executive director Melissa Samuel said in an email to Bridge Michigan, through the organization's spokesperson. Resources, she said, include adequate staff, personal protective equipment, testing supplies and support, and space to allow for social distancing and privacy. Even so, some Michigan homes have found innovative ways to connect residents with families and loved ones, showing it can be done safely, even in regions where COVID is more widespread.
A British facility provided a kernel of inspiration last year. It sealed a visiting booth made from acrylic and a bit of wood, gaining international attention, including from people running the Facebook page, Michigan Caregivers for Compromise. "Set up a tarp. Put up a partition, so we can sit and see them," Dana Allen, a member of the Facebook group, which pushes for policies to reduce isolation at nursing homes amid the pandemic, told Bridge Michigan. Facilities "need to think outside the box, for crying out loud," said Allen, who said she has been able to visit her own mother just a handful of times since COVID hit. 
Here are some Michigan homes that are doing just that.
Finding a way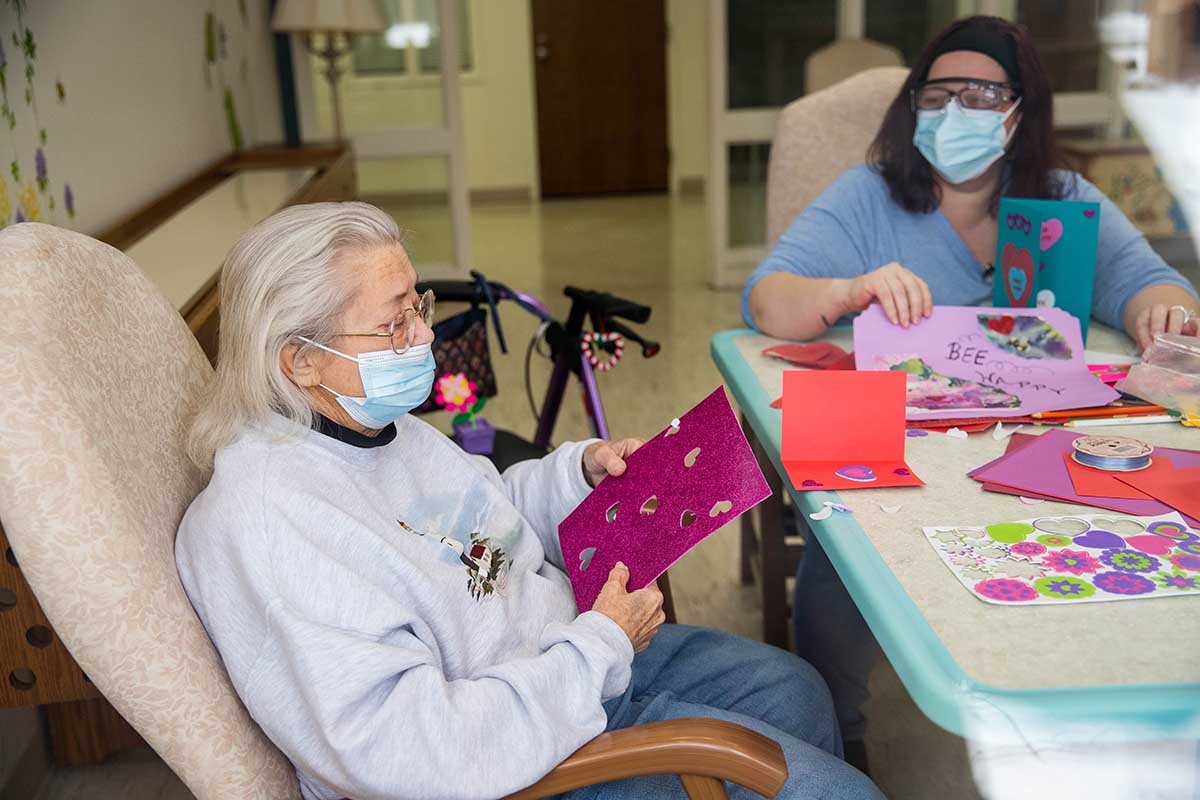 Faye Sweet, a hospitality aide, helps Marna Hunsburger, 85, making Valentine's cards for her daughter at Cass County Medical Care Facility in Cassopolis. (Bridge photo by Daytona Niles.) Cass County, in the state's southwest corner, is one of about four-dozen Michigan counties whose risk levels remain too high for indoor visitation. Indeed, the facility Bo Whitmyer's daughters visited last week has not been immune from infection, with 13 COVID-linked deaths according to 
state data
.  But Whitmyer was able to see his children because the facility found a way to make the visit indoor-ish, if not exactly indoors. It also leveraged grant money to hire temporary hospitality aides, whose sole focus is to engage isolated residents and find ways to connect them with loved ones.   
During Whitmyer's visit, one of those aides held the intercom just inside the vestibule where his daughters' stood — a small glassed-in area festooned with bright red Valentine's Day cupid cut-outs. Because the aides are "essential workers" under state emergency measures, they get a pay boost to $17 an hour. They devote all their energy to engaging residents, allowing the facility's permanent staff to concentrate on their daily duties. "Their jobs are to spend time with the residents," administrator Christian Lutes said. "We realized a long time ago, what folks need most here is time."

Cass County Medical Care Facility millage headed to ballot
CASSOPOLIS — A new millage proposal is heading the August ballot.
Thursday, the Cass County Board of Commissioners hosted its regularly scheduled meeting. In compliance with continuing "Stay Home, Stay Safe" orders in the wake of COVID-19, the meeting was hosted via Zoom video conference.
During the meeting, commissioners voted to approve a millage request by the Cass County Medical Care Facility to be placed on the August ballot. If approved by voters, the .5 mill would levy 50 cents of every $1,000 in state-equalized value of real and personal property in Cass County for five years, starting Dec. 1. The funds raised by the millage, estimated to total $1,165,000 in the first year, would be used to defray the costs of the facility's operation as well as provide funds for expanding services.
"We would like to upgrade our services and be able to provide more services to our county," said Cass County Medical Care Facility Administrator Christian Lutes.
The millage request is the first one made by the Cass County Medical Care Facility since 1996. Lutes said the facility initially looked at asking for a one mill millage but decided on a .5 mill millage due to the outbreak of COVID-19.
"We don't even know what the world will look like in August," Lutes said. "We are in difficult times, in the throes of a national emergency, so we decided to cut that in half."
According to Lutes, the millage is necessary as the facility has been facing financial difficulty since 2016. As service costs have increased, the facility has been running at a deficit of $16 per day.
In addition to providing necessary funding to current services, such as outpatient rehabilitation services, adult daycare, assisted living and independent living services, Lutes said the millage would provide an opportunity for the Cass County Medical Care Facility to expand on its services.
One new service that could be offered is outpatient therapy, which would be available to any county resident regardless of age.
"We have taken a step back and looked, and we see that our services are what really sets us apart," Lutes said of the Cass County Medical Care Facility, which is currently ranked in the top 10 percent of nursing facilities by the state of Michigan. "We would like to expand on that. … This could allow us to provide the services that we are lacking."
The millage was approved unanimously by the board of commissioners.
"The benefits to the county could be limitless," Lutes said of the millage.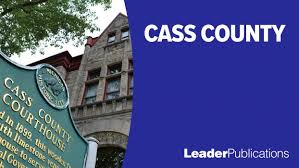 County, medical facility partner to establish steering committee
Jan. 14, 2020  Finding the right direction
CASSOPOLIS-  As Cass County enters the new year, county officials are looking at ways to care for one of the largest segments of its population.
The Cass County Board of Commissioners recently voted to establish an elder care steering group with the Cass County Medical Care Facility, a county-run nursing home. The committee, which will be composed of county officials and community members, will work to identify the eldercare needs of the county and work to find solutions to meet those needs.
"This will help identify a direction of how the county should care for its aging population," said Deputy County Administrator Kerry Collins. "What we are going to be looking at is an overall approach of how we can provide fulfilling golden years of life for our residents."
To Collins' knowledge, the eldercare steering committee will be the first of its kind in Cass County.
According to the U.S. Census Bureau, 21 percent of Cass County's population is over the age of 65, and the number is only set to grow as residents age. Because of the high need for elder care services in the county, Cass County Medical Care Facility Administrator Christian Lutes presented to the board of commissioners, asking for a committee to be created specifically to address elder care and to assess the needs of the county's senior citizens.
"With the upcoming explosion of the elderly population, the county has determined that we need to take a hard look at how we take care of our community," Lutes said. "The goal of the steering committee will be to research and poll the community to find out the role the county will have in providing services to the elderly and people who can't manage on their own."
Within the work that the steering committee will be doing, members will be looking for potential resources to aid seniors, such as housing for independent and semi-independent seniors, and other services, Lutes said.
While the scope of the steering committee will be to look at potential resources county-wide, both Lutes and Collins said the committee would look at ways the Cass County Medical Care Facility can provide incoming eldercare needs. As the facility is a government-run nursing home, it is one of the county's most substantial resources for senior care, Collins said.
"(The Cass County Medical Care Facility) is a great facility and is one of the few government-run nursing homes to have a five-star rating," Collins said." But there are challenges as the population ages….There will need to be a continuing focus on how we take care of our aging population. We want to ensure that it remains a five-star facility that is staffed and maintained to provide the level of care that is needed."
Collins said the county plans to have the committee operating within the next 30 days. Until then, the county will be working to put together a committee of county commissioners and residents that will be able to bring a diverse set of perspectives to the table. 
Both Collins and Lutes said they hope the steering committee will prove to be a valuable resource to the county as it continues efforts to care for the aging population. 
"I see the county's place in the future as providing options where folks can age in place rather than being uprooted from various spots in their lives," Lutes said.
"This is a combined effort for all community partners to join for the good of the order and hope to determine how we, as a community, provide care for those in need."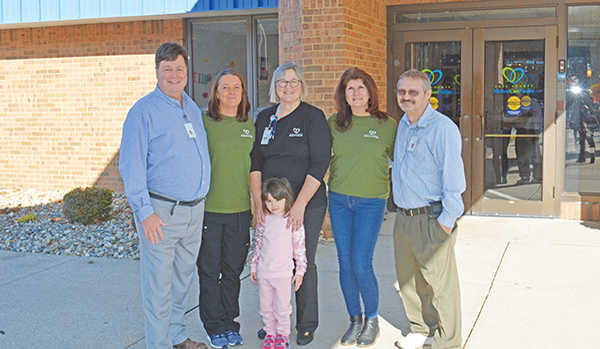 CCMCF hosts annual Thanksgiving meal
CASSOPOLIS- Sunday, every room of the Cass County Medical Care Facility, 23770 Hospital St., was packed to the brim with residents and families alike enjoying a holiday feast. 
The government-run nursing home hosted its annual Thanksgiving meal at noon Sunday. With a meal consisting of a turkey and traditional sides and desserts, the day's event drew more than 300 visitors.
According to Administrator (in training) Christian Lutes, the Thanksgiving meal has been hosted at the facility for more than a decade.
"This is our way of thanking our residents and their families," he said. "We are just grateful to be a part of the community and to be able to serve the community."
Once the meal was over and the facility was cleared of its hundreds of visitors, Lutes said staff had to begin preparing to do it all over again for a meal to be hosted for residents who were staying in facility on Thanksgiving Day.
"We do this a little bit early so we can have a big Thanksgiving here, but people can also celebrate with their families on Thanksgiving Day," Lutes said. " We cook twice. We do this for the families, then we cook this meal all over again for our residents on Thanksgiving Day."
 Oct.  24, 2019
A Nice Surprise
To say I was surprised is to say the least. If you like surprises take a trip to the Cass County Medical Care Facility on Hospital Street. Everything has a new modern look with bright colors and lots of creativity. The buildings are located among beautiful lawns and trees, and one can see two nice outdoor patios. Guests and residents can relax enjoying a multitude of flowers and birds. You won't believe the three dead trees, each artistically carved with a chain saw- a beautiful eagle with spread wings, a magnificent horse head and lastly one tree with holes, and little animals peeking out. Inside is bright and airy with warm welcoming touches- no wonder the facility was given a five-star rating for patient care.
                             GINGER LUXENBERGER
                                                    CASSOPOLIS
Cass County Medical Care Facility to host annual picnic
The Cass County Medical Care Facility is inviting the public to it's annual picnic from 11am to 3pm Sunday Sept, 22 2019. The event, which will honor first responders and veterans in attendance, will feature a picnic lunch, a bounce house and face painting for children, live music, a tree carver on site and contests. 
"What we do is we house community members in need regardless of their ability to pay." said Christian Lutes. "We have always existed to help the community, not to make a dollar."
"This is honoring and recognizing county members." Lutes said. "We want to invite the entire county. Please come out and see your tax dollar at work. See how we take care of our own. This is a way of integrating ourselves into the community while giving back. 
Honoring Heroes (Cass County Medical Care Facility hosts First Responder Luncheon 2018)
The Cass County Medical Care Facility hosted a first responder luncheon intended to honor local first responders and emergency workers. Representatives from agencies across the county were in attendance at the event, including: the Cass County Sheriff's Office, Central Cass Fire Department, Pokagon Tribal Police, Penn Township Fire Department, the Pokagon Fire Department and more. 
"This is the county's way- and all of our patient's way- of saying thank you to folks who take care of us and don't get the recognition." Lutes said he felt it was appropriate for the facility to host the first responder's luncheon to thank other Cass County entities for keeping the county safe.
Alan Miltenberger, a firefighter with the Pokagon Fire Department for the last 10 years, said he thought the event was a great thing for the county. "This is really nice," he said. "I do what I do because I love it, but this is still really nice to be thought of."
Chief of the Cass Central Fire Department Jeff Locke said he was similarly grateful for the event, even though he said first responders do not do what they do for the recognition.
"I just feel that everyone should give back to the community and this was my way of giving back to the community," he said. "But, its great to be noticed and to know that what we do is appreciated by people. It's awful nice of (Cass County Medical Care Facility) to do this."
Caring for the Community (2018)
Several commissioners took time at the meeting to express their respect for the Cass County Medical Care Facility.
"Thank goodness there are people like you to support our aging generation," said Commissioner Clark Cobb. "It's a big job, and there is more to it than a lot of people realize. Thank you for all you do." 
Commissioner Rosann Marchetti also thanked the facility, saying that she has seen the work they do in action as she has had loved ones stay at the facility.
Lutes said he was honored and humbled by the recognition by the board of commissioners.
"We are proud to be a part of the county, the community." he said. "We are going to do you proud. We are proud to demonstrate a positive outcome and be the only five-star facility in the area."
"We plan to expand to meet the needs of our population as the senior population expands in the coming years."
County Medical Care Facility gets Five-Star Ranking (2018)
Cass County Medical Care Facility Interim Director Christian Lutes tells commissioners that the facility earned five-star recognition.
The Cass County Medical Care Facility presented its annual report to the Cass County Board of Commissioners during the board's regular meeting Thursday evening. The report contained information material about what the facility does, and also revealed that the facility was ranked as a top nursing home in the state of Michigan in 2018. 
Interim Director Lutes presented the report to the board of commissioners. He began by explaining what the Cass County Medical Care Facility is and how it benefits seniors in Cass County and beyond. 
"We are a county facility governed by the county of Cass," Lutes said. "Not only do we provide housing for the rest of people's lives should they need it, but we also rehabilitate people back home, so they can resume their lives."
When Lutes made this announcement, adding that the facility had also received a five-star rating by medicare.gov, commissioners burst into applause.