CCMCF IN THE NEWS (BRIDGE MICHIGAN) HUGGING STATION
February 21, 2021
Hugging stations: How some Michigan nursing homes fight despair amid COVID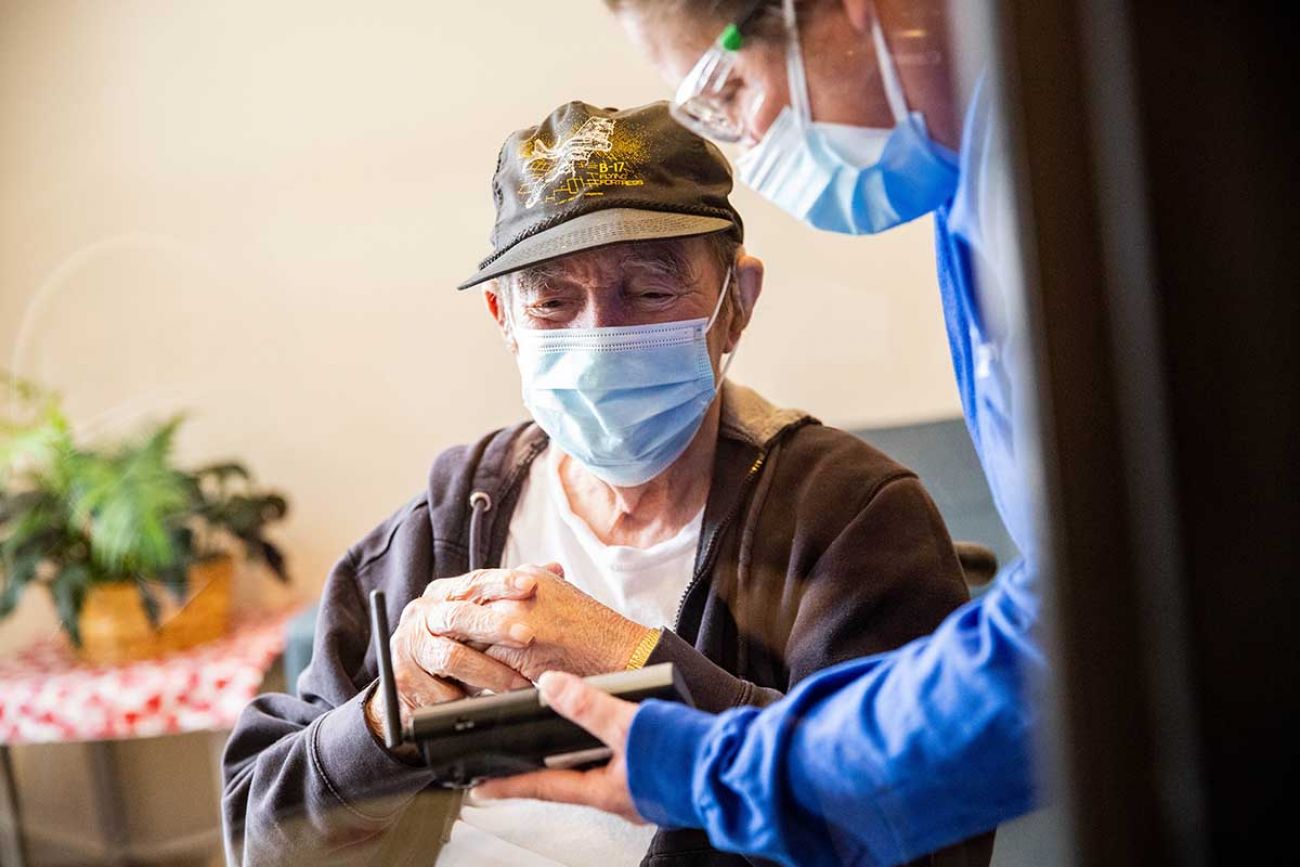 Liberty Wilson, hospitality aide, holds an intercom up to Clarence "Bo" Whitmyer, so he can speak to his daughters on the other side of the glass visiting him in the vestibule at Cass County Medical Care Facility in Cassopolis. (Bridge photo by Daytona Niles)
Inside the heated vestibule at Cass County Medical Care Facility, it will not matter that, for the next 14-and-one-half minutes, the sisters' conversation with their father will be the same as countless others they've had with him in the past.
That dementia has left him with few words.
That Phyllis's quip — "Did you go dancing last night, Dad?" — is as well worn as the faded ball cap that signifies 96-year-old Clarence "Bo" Whitmyer's time as a B-17 tail gunner in World War II.
What will matter is that Whitmyer's eyes are pinched at the corners, evidence of the smile behind his mask. 
After months of awkward window visits — sometimes with snow blowing around family members as they stood outside and shouted through the wind — he appears content.  And that's a relief, Schmuhl said, smiling as she turns toward the exit after their visit. "That was good," she said, taking a deep breath as an aide wheeled their father back down the hallway. "He looks good."
Residents in many Michigan facilities are not so lucky. Across wide swaths of the state, nursing homes and other long-term care facilities are now eligible under state law to resume indoor visitations with loved ones. But few appear to be making that happen. "We hear about homes — where residents are near end-of-life, where visitation is clearly allowed — and aren't allowing" visitation, said Salli Pung, head of the Michigan Long-Term Care Ombudsman program, which advocates for residents in nursing homes and similar facilities.
As of Friday, COVID cases counts and other health metrics had improved enough in 40 of Michigan's 83 counties, as well as the city of Detroit, to support visits from loved ones, according to the MiSafeStart dashboard. Equally promising, every resident of Michigan's skilled nursing facilities that wanted a COVID vaccine has had at least one dose; and more than three-quarters have taken their second dose of the two-dose regimen, as of Monday, according to the state's vaccine dashboard. And yet? "I'm not hearing of a lot of facilities opening up, no," Pung said. "I feel like we're in the mud and we're not moving forward."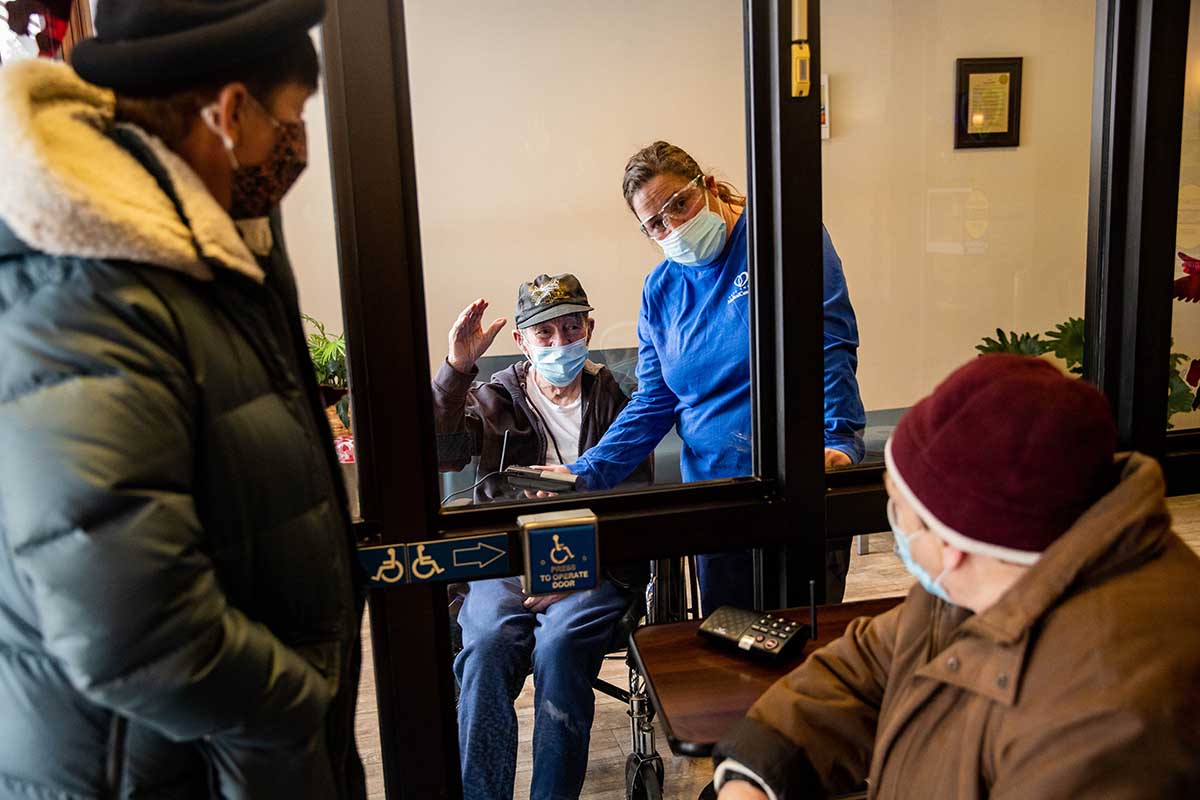 Clarence "Bo" Whitmyer waves goodbye to his daughters during a visit at Cass County Medical Care Facility in Cassopolis. (Bridge photo by Daytona Niles)
She and others acknowledge that nursing homes must balance the months of isolation residents have endured against the threat of spreading the virus in a state where more than one-third of 15,000 deaths linked to COVID are connected to long-term care facilities.
The Health Care Association of Michigan, which represents some 350 long-term care facilities, said it doesn't track how many of its homes have opened to visitation. Each "facility has to have multiple procedures in place to maintain safety as well as the resources to support those procedures," HCAM's executive director Melissa Samuel said in an email to Bridge Michigan, through the organization's spokesperson. Resources, she said, include adequate staff, personal protective equipment, testing supplies and support, and space to allow for social distancing and privacy. Even so, some Michigan homes have found innovative ways to connect residents with families and loved ones, showing it can be done safely, even in regions where COVID is more widespread.
A British facility provided a kernel of inspiration last year. It sealed a visiting booth made from acrylic and a bit of wood, gaining international attention, including from people running the Facebook page, Michigan Caregivers for Compromise. "Set up a tarp. Put up a partition, so we can sit and see them," Dana Allen, a member of the Facebook group, which pushes for policies to reduce isolation at nursing homes amid the pandemic, told Bridge Michigan. Facilities "need to think outside the box, for crying out loud," said Allen, who said she has been able to visit her own mother just a handful of times since COVID hit. 
Here are some Michigan homes that are doing just that.
Finding a way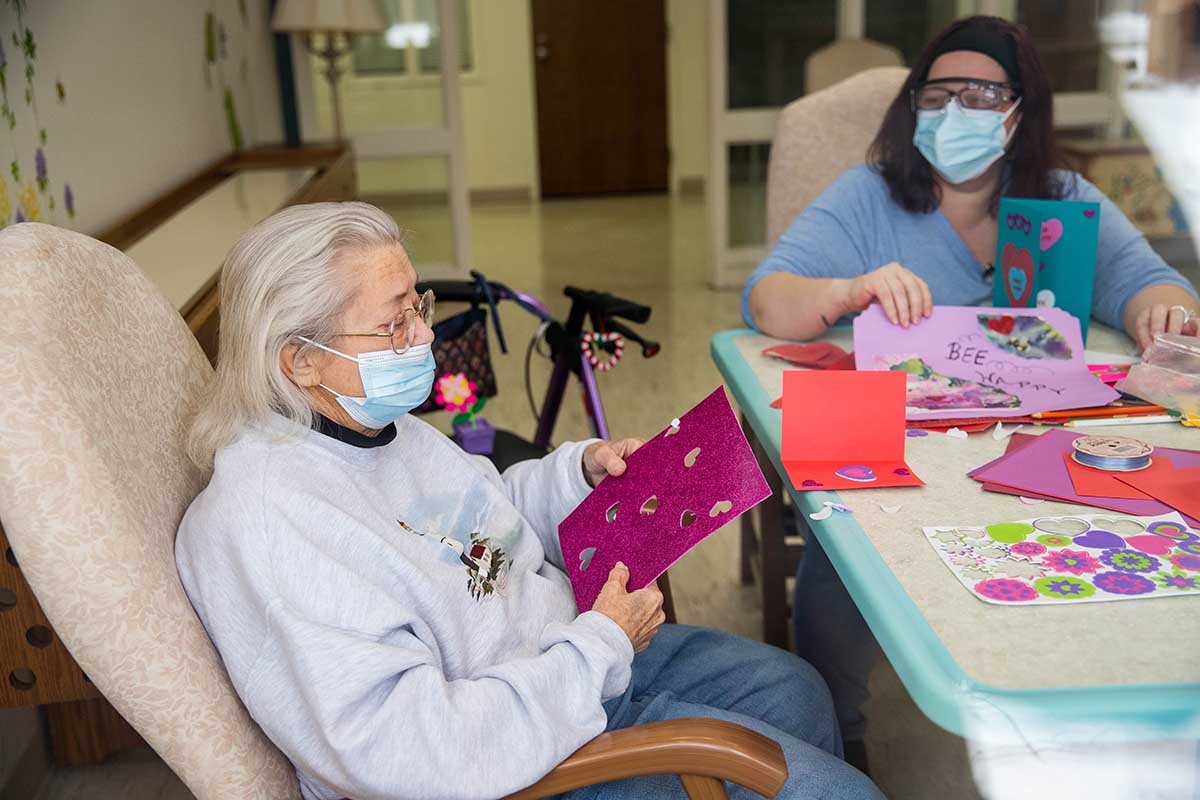 Faye Sweet, a hospitality aide, helps Marna Hunsburger, 85, making Valentine's cards for her daughter at Cass County Medical Care Facility in Cassopolis. (Bridge photo by Daytona Niles.) Cass County, in the state's southwest corner, is one of about four-dozen Michigan counties whose risk levels remain too high for indoor visitation. Indeed, the facility Bo Whitmyer's daughters visited last week has not been immune from infection, with 13 COVID-linked deaths according to
state data
.  But Whitmyer was able to see his children because the facility found a way to make the visit indoor-ish, if not exactly indoors. It also leveraged grant money to hire temporary hospitality aides, whose sole focus is to engage isolated residents and find ways to connect them with loved ones.   
During Whitmyer's visit, one of those aides held the intercom just inside the vestibule where his daughters' stood — a small glassed-in area festooned with bright red Valentine's Day cupid cut-outs. Because the aides are "essential workers" under state emergency measures, they get a pay boost to $17 an hour. They devote all their energy to engaging residents, allowing the facility's permanent staff to concentrate on their daily duties. "Their jobs are to spend time with the residents," administrator Christian Lutes said. "We realized a long time ago, what folks need most here is time."